Bill Shoemaker

His complete name was William Lee Shoemaker, he was born in Fabens, Texas, Unites States, and his father worked in a cotton factory.

He had a premature birth, with a weight of 900 grams when he was born, which meant that he was at the edge death, if not had been for his grandmother who built a home-made incubator. She put Bill in a shoe case and placed him in the oven at a low temperature, and thanks to this, Bill survived; from then on, he was known in the whole world as Billie The Shoe.

When he was a small boy he lived in Abilene with his grandfather, and when he was seven years old he rode his first pony. After several years, he went with his father to California, and he was outstanding in the High School of Athletics.

He started to realize that his true passion was to be a jockey, but not anyone, he wanted to be the best.

He rode his first race at the age of seventeen, on 19 March 1.949, in the Californian racetrack of Golden Gate Fields, finishing in fifth place, with a mare four years old named Waxahachi, winning his first race as jockey a month later, riding, in his first year, nothing less than 219 winners.

In 1978, he was the jockey who had won most races in the whole world, nothing less than 7,200 races and more than 61 million dollars in prizes.

In all his life, and until his retirement in 1990, he rode a total of 40,350 races, he won 8,833, more than 123 million dollars in prizes, and something more surprising is that in 50% of the occasions in which he rode a racing horse, he crossed the winning post in one of the three first positions, and for more information, to point out that the 21,89% of the times when he rode a horse, he made him pass through the door of the winners, being the first jockey in history who surpassed the 100 million dollars in earnings.

Shoemaker broke Johhny Longden's record of 6,032 career victories in 1970 and held it until Laffit Pincay Jr. broke Shoemaker's mark of 8,833 wins in 1999. At January 22, 2005, Russel Baze surpassed to Bill Shoemaker con four victories at Golden Gate Fields.

"Any time you can have your name spoken in the same breath as Bill Shoemaker, you're doing something right," Baze said. "I'm just tickled to death to have my name spoken in front of his now."

"He was my idol," Baze said of Shoemaker. "He's the idol of every jock. He set the standard to match."

Among his victories one should quote five Belmont Stakes, three Preakness Stakes and Four Kentucky Derbys.

In 1986, at age 54, he became the oldest jockey to win a Kentucky Derby when he guided Ferdinand along a small opening on the rail in a ride considered one of the greatest ever.

That win came 21 years after his previous Derby win aboard Lucky Debonair in 1965. He won America's most famous race four times. He was also victorious in 1959 with Tomy Lee and 1955 with Swaps.

Perhaps his most famous Derby ride was one he lost in 1957.

Dueling toward the finish line at Churchill Downs were Gallant Man, ridden by Shoemaker, and Iron Liege, ridden by Bill Hartack.

At the sixteenth pole, Shoemaker stood up, mistaking it for the finish line. He sat back down immediately but Gallant Man lost by a nose.

Shoemaker received a 15-day suspension from the stewards.

But Gallant Man's owner, Ralph Lowe, found no fault and gave Shoemaker Usd 5,000 and a new car. Five weeks later, Shoemaker rode Gallant Man to an eight-length victory in the Belmont Stakes.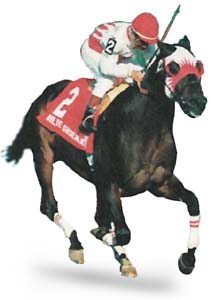 Shoemaker also brought out the best in such greats as Sword Dancer, Damascus, Gun Bow, Spectacular Bid, Bold Bidder, Round Table, Ack Ack, Exceller, John Henry, Forego, Candy Spots, Jaipur, Gamely and Cicada.
In total, he rode on 26 occasions the Kentucky Derby, getting four first positions, three second positions, four three positions and three four positions.
He retired in 1990 when he was 59 and started to dedicate himself to the horse training, until in 1991 he had a very serious car accident which left him paralyzed. Hall of Fame jockey Bill Shoemaker was a commanding presence in thoroughbred racing for more than 40 years, died Sunday 12 October when he was 72.
Shoemaker died in his sleep at his suburban home near Santa Anita racetrack, according to longtime friend and trainer Paddy Gallagher. Gallagher, an assistant during Shoemaker's training career that ended in 1997, said doctors told him Shoemaker died of natural causes.
"He was one of the greatest human beings I have ever had the pleasure of knowing in my life," said retired jockey Chris McCarron, now general manager of Santa Anita. "Forget about his ability to communicate with horses, his compassion for people was second to none."
Only 4-foot-11, "The Shoe" throughout his career rode for 41 years, most of them in Southern California, considered to be the most competitive circuit in America.
"For a man his size, wearing a size 2 1/2 shoe, he was a giant," retired Hall of Fame jockey Eddie Delahoussaye said.
After retirement, he was emphatic when asked if he missed riding.
"No, I went 40 years," he said. "That's long enough. It's time to do something else."
Two days after being released from a hospital where he underwent rehabilitation after the 1991 car accident, Shoemaker returned to train at Santa Anita. His fillies Alcando and Fire The Groom, finished first and second in the 1991 Beverly Hills Handicap, Shoemaker's first grade I win. Fire The Groom also won the Beverly D and the Wilshire Handicap that year. Among the other top horses he trained were multiple graded stakes winner Glen Kate, 1994 Strub Stakes victor Diazo and Shirkee.
He retired from training in 1997. He also wrote racetrack mysteries.
"This is a very sad time for me," Pincay said from his home in Arcadia Sunday. "I talked with Shoe three or four days ago about a trip I had taken to New York to help find a cure for paralysis. I told him how close they were to finding a cure and he was very excited and sounded happy about it.
"We were good friends for many, many years. He was my idol when I came to this country and he was always a Class-A guy. I know he wasn't happy in that wheelchair, but he never complained."
"He was a beautiful, wonderful man" said retired Hall of Fame jockey Angel Cordero Jr. "When people die everybody says nice things, but believe me, when he was alive people would have told you the same."
"It is very rare when someone can unequivocally be categorized as the best in the world," said Nick Nicholson, president of Keeneland racetrack in Kentucky. "Bill Shoemaker at the pinnacle of his career was the best in the world."
His former wife and only child, Amanda, survive Shoemaker
Without any doubt a Real Champion.